Warner Road is a major east-west arterial that runs through much of the East Valley. It's continuous from Phoenix (Ahwatukee area, where it forms a loop with Elliot Road, another major e-w arterial), thru Tempe, Mesa, Gilbert. In the city of Tempe it runs the entire width of the city, from wherever exactly it is that Tempe begins (just east of I-10 bridge) to just west of SR101 (google maps)
Warner in this area generally has two through lanes and a designated bike lane (BL) in each direction as well as a continuous center lane, some major intersections have right-turn-only lanes (RTOL), but others do not (more on that later). There are no BLs in the area immediately east of I-10, and there are numerous "dropped" BLs; where the BL is intentionally discontinued to make room for a RTOL.
The posted speed limit in Tempe is 45mph; which seems high to me. Unlike Guadalupe Rd, there are no schools along it, so the limit is 45mph throughout. There are relatively few intersections or driveways making it suitable for BLs.
From my estimating (google maps; see inserted pic above right; another possible better measurement tool is at the excellent Historical Aerial Phototgraphy of Maricopa County) the road is 68 feet wide curb-to-curb from Priest (it's significantly wider between Priest and I-10) to somewhere just west of Price (SR101); though it flares wider at major intersections to accommodate a RTOL (some have one direction only, others have one in each direction; when there is only one, it was presumably to accommodate a predominant traffic pattern, e.g. at Rural there is a westbound RTOL but no eastbound).
The 68 feet minus two ~ 1.5′ gutters leaves 65 feet of asphalt from gutter joint to gutter joint. In the old (before Nov 2016) striping pattern this was divided approximately (again, estimating from eyeball and google maps) as follows:
4′ / 12′ / 11′ / 11′ / 11′ / 12′ / 4′ = 65′ excl. of gutters
The BLs were a comfortable total width of about 5.5′ [actual measurement: usable width was 48″, and total including gutter was 5'5″]. And the adjacent lane at 12′ meant there was no problem with large vehicles in lane 2 passing a bicyclist in the BL (see shoehorning for more on the topic; you need around 17′ of total space for a large vehicle, bus, truck, etc. to pass a bicyclist safely).
November 2016 / mill & overlay
In a surprise (to me), the city of Tempe is resurfacing ("mill & overlay", a.k.a. "mill and fill") Warner from I-10 to Dateland drive, which encompasses the Kyrene intersection. According to the city's site, the area will have lane restrictions 11/5 through 11/15/2016. The 311's addressing warner & kyrene intersection I placed a month ago were closed quickly and (as far as i could tell) without any explanation.
The new surface sounds as though it's rubberized, extremely smooth and quiet.
Mid-Block, typical:
Mid-block, where there already had been BLs, the new striping seems to have been widened the BLs to 5′ [actual measurement in several spots show consistently just shy, 2 inches, or 5′] of usable width (a full foot wider than the AASHTO recommended 4′ usable). This is next to a gutter pan of 1.5′ throughout — this area, unlike Guadalupe Rd, doesn't seem to have any of those oddly-wide 2′ gutter pans. (though there are 2′ pans at I-10, that presumably has to do with ADOT, and anyway, there are no bike lanes along that segment)
I haven't been able measure exactly what got narrowed but I think it's now:
5′ / 11′ / 11′ / 11′ / 11′ / 11′ / 5′ = 65′ excl. gutters
This is all well-and-good, it's more comfortable to ride in the new wider BLs, but note that the amount of combined space for a bike + overtaking vehicle is the same 16′ (not counting the gutter).
In a general gripe, it would be or have been nice to have seen the engineering plans ahead of time for what have turned out to be major rearrangement of Warner at Kyrene — presumably to address the issues detailed here. There, as far as I can tell, was no public outreach whatsoever. Anyway, as noted, there are two important factors going on at this intersection: 1) The intersection is actually wider, than e.g. Rural or McClintock, and 2) the alignment of Warner shifts at Kyrene by several feet, making traversing it dicey.
Room for Improvement / Problem Areas
Most of the project is fine, and superior to what was there — there are a few isolated spots that are not optimal. I don't know exactly what that should be (because I don't have or don't know where to find the actual drawings and dimensions) so below are a list of areas that should be examined… This is all basically low-cost stuff, but mostly would have been "free" if corrected before the project was completed.
Westbound; approaching Kyrene
This addresses what was referred to as Problem #2 and 4 here.
This was formerly a dropped BL, this was especially problematic because on the far side of the intersection, the BL formerly was significantly sub-standard width.  We see now from the picture there is now a full (possibly even spaciously wide, maybe 6 feet?) BL to the left of the RTOL. On the far side, there is (now) a full-width BL to receive westbound cyclists. Yay.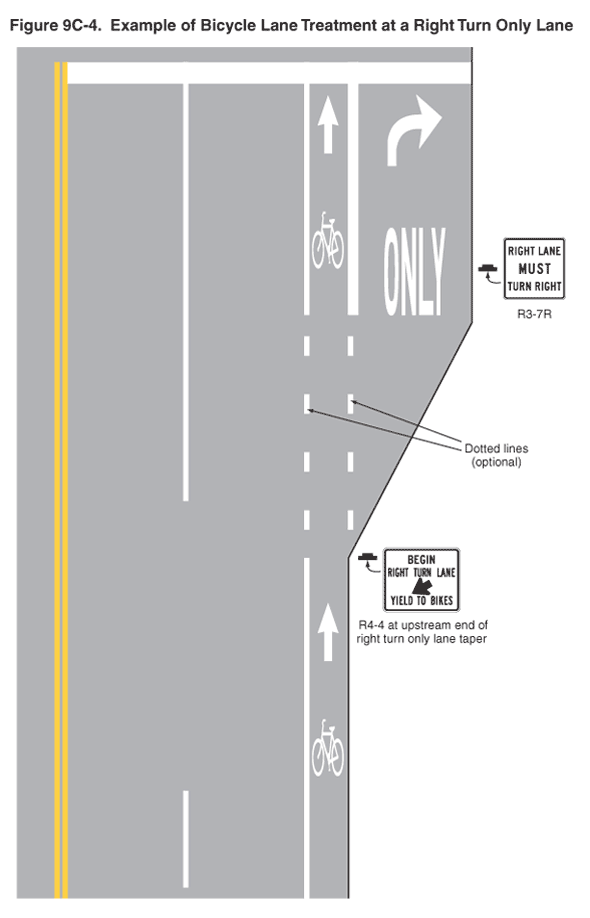 This type of configuration, a BL to the left of a RTOL, is illustrated in Fig 9C-4 of the MUTCD.
I RECOMMEND that Tempe install the optional dotted lines as shown in the MUTCD example figure, they help make clear to right-turning motorists that they must yield to bicyclists, as well as help guide though-going traffic, both motorists and bicyclists. Especially because, unlike in the simplified/idealized figure, at this intersection, bicyclists and motorists must move left to continue straight. This sets up a criss-cross situation, which the dotted lines should help visually clarify. A similar criss-cross on Pecos Road in Phoenix contributed to a cyclist's death in November 2014.
See MUTCD fig 3D-3, Markings for Preferential use lanes for the meaning of dotted lines: "wide dotted single white lane line (crossing PERMITTED to make a right turn"
I also RECOMMEND using some green paint to highlight the lane shift to supplement the dotted lines. The City of Tempe already has Interim Approval IA-14.40 soon file so this should be simple and relatively cheap matter to accomplish. Green Paint is recommended for "conflict zones", see e.g. the FHWA Separated Bike Lane Planning and Design Guide. Note that the paint is retro-reflective, so would be particularly helpful in the dark. This usage is listed specifically in the IA for colored pavement: "to extend a bicycle lane across the beginning of a turn bay…".
I ASSUME (it's still not there as of 1/13), or otherwise  RECOMMEND, that Tempe will erect an R4-4, Begin right turn lane yield to bikes., as shown in the figure (it's also used elsewhere in Tempe, e.g. the aforementioned University at Rural.
Eastbound; approaching Kyrene
In a surprise, the BL which formerly extended to the intersection is now dropped on approach, and a newly created RTOL lane has been defined.
In other words, Tempe has "squeezed out" the extra space/width of Warner at Kyrene by eliminating former dead-space that was in the dedicated left-turn space; on the west side of the intersection this meant dropping the (eastbound) BL, adding space to the (westbound) BL, and adding an RTOL, and on the east side of the intersection adding a full BL.
This doesn't address any of the problems; and perhaps should now be considered its own new/additional problem, as through cyclists now must merge into the right-hand through lane when the BL drops, which is sometimes difficult (it's difficult when the signal is green and there's a lot of fast, through traffic). It's also an extra criss-cross for bicyclists; and due to Warner's alignment shift bicyclists must veer quite a lot to the left to get into the right-hand through lane.
The actual implementation, though, leaves much to be desired. When the "permanent" BL stripes were installed in January (formerly, there were no BL stripes painted here Nov and December), it turns out they have "squeezed" the good/nice 5′ BL down to a sub-standard width at what was formerly the pinch point (was Problem #3). So we still have a pinch point here. In the pic you can see there are temporary white tick marks at what would have been 5′, but the stripe bends to the curb, shrinking the width to sub-standard.  Update (February 2017?) This segment has since been corrected to include a normal-width BL all the way until the BL drops. This was done as what would seem to me to be considerable expense; it required grinding away the BL and the dashed line for a couple hundred feet and re-placing the lines.
Eastbound, East of Kyrene, The Other Pinchpoint: which was referred to as problem #1. Still seems to exist, i don't have a good pic, there is  well under 4′ of usable space in the same place as the problem #1 pinch point. It's not as bad as before, a bit wider perhaps plus of course the new asphalt is (for the time being) extremely smooth and there's no gaps in the longitudinal joint.
Again, I haven't seen an engineering drawing but I really don't think there's any reason for this; there appears to be enough space in the right-of-way to accommodate all the thru lanes along with (minimum 4′ usable space) bike lanes. Did somebody measure wrong?
Westbound Approaching Harl / Emerald
[could use a good diagram; this is hard to describe with words](google sat view, currently shows pre-resurfacing view) Warner is very very wide here (80′!), yet the BL is un-necessarily narrow [measured at 4′ usable], and worse yet it hugs the curb on the approach to the RTOL pocket onto Emerald. Sets up another, but less pronounced than the Kyrene, criss-cross. The BL stripe could easily maintain 5′ usable width here; and the BL stripe should be aligned so it lines up with the (left) BL stripe next to the RTOL. The way it is now, if you projected the stripe, it would align with the right BL stripe. This is a problem because some drivers (particularly distracted or impaired ones) will track the stripe, and would end up rear-ending a bicyclist who happened to be in the BL to the left of the RTOL.
In the foreground of that same picture, the width is a mere 5′ (the minimum width of a BL), and right now there is nothing to the right — it's apparently some future driveway lane that is currently unused.
I STRONGLY RECOMMEND fixing the stripe location, also as noted above westbound at Kyrene, I  RECOMMEND the optional dotted line be installed. This spot already has a R4-4 installed.
Near I-10
The segment on Warner Rd from the I-10 bridge deck to Jewel Drive; this is about 1,000 feet. Note that as far as I can tell/remember, the striping here has not changed, it's the same as before the resurfacing.
This segment did not and does not have a BL. Exactly why the BL begins/ends at Jewel isn't clear, it probably has something to do with ADOT and Tempe. This area is challenging for cyclists who aren't comfortable riding in traffic; there's a long rambling dissertation here about this segment, including some recommendations — the most obvious is eastbound,  Lane 1 could be easily reduced to 11′, and that would make Lane 2 reasonably sharable (side-by-side). The present width of Lane 2 is such that it is neither wide nor narrow, it's wide enough to share with, say, a sedan/car; it's tight to share with an SUV and it's not wide enough to share with a truck or bus.
Combined Use lanes(?)
I tend to still think a "combined" RTOL which allows bicyclists is the way to go (at all of Warner's dropped BLs: Priest eastbound, Hardy both directions, Kyrene eastbound, Rural westbound, McClintock both directions) this would eliminate the need for through bicyclist to have to merge into the through lane — which is easy when the signal happens to be red but can be very difficult when green; and it's something many cyclists simply will never do.
More Resurfacing to be done?
[ UPDATE this section referenced below, from Dateland to just west of Rural, was re-surfaced in 11/2018; not sure how it got re-prioritized because the tempe311 last year indicated it "is currently not programmed in our four year CIP". But it needed to be done, so that's good. One oddity is the project stopped, inexplicably, about 200′ from Rural, and this has some significant cracking in the BL, particularly westbound ]
Tempe311, submitted through my facebook profile:
As you know, Warner Road between I-10 and Dateland (Dateland is ~ 1,000′ east of Kyrene) was recently resurfaced in late-2016.
One mystery is why the city chose the segment to be resurfaced, or more specifically, why was the section between Dateland to Rural not resurfaced? I understand it obviously revolves around money but It would appear to me the pavement quality (PQ) in most of the areas re-done in late 2016 had already been very good; and in any event the PQ, particularly out near the edges of the road where the gutter pan meets the asphalt is pretty bad. There's also some lateral cracking across the width of the bike lane. (Seen in photo, attached; this was westbound just west of Rural)
Does your algorithm for assessing PQ take into account the entire width? … because the large majority of the width of the road is fine, it's just an extremely sloppy job at the edge joint in this particular mile on both sides (the mile between Kyrene and Rural) This condition has persisted for years.
Conversely, the remaining two miles (in Tempe city limits), between Rural and Price is fine, and doesn't suffer from the sloppy, deteriorating edges.
Pothole # 2669277 was successfully submitted to Tempe 311
The official reply came very late, and can be viewed here.
…
The PQ (Pavement Quality) between I-10 and Kyrene was quite good, yet that got resurfaced. The PQ between Kyrene and Rural is abysmal at the edges.
This segment years ago, possibly decades, had a very sloppy resurfacing job that left the gutter seam joint a mess. And remains to this day (photo taken January 2017)
Likewise, the PQ in the bike lane on McClintock between Warner and Elliot is particularly bad; see mcclintock-road-resurfacing-and-left-buffered-bike-lanes and scroll down to "wither South Tempe"
I did receive a reply via email, somewhat delayed (a breakdown in the 311 system? I had to bring it up via Kolby who forwared it through to approriate city staff. See email thread dated ~ 9/13/2017 as answered by Isaac Chavira,  Transportation Maintenance Manager. The official 311 request was closed in Oct 2017, and can be viewed here.
Kyrene to Rural Segment; late 2018
As mentioned above, the segment of Warner between Kyrene (actually Dateland) to Rural (actually ends, oddly, ~100′ before the intersection?) was resurfaced in late 2018. This was badly needed.
The widths are the same generally as was from the earlier resurfacing that ran west of here all the way to I-10 (the city limit). Curiously, in this new segment, green thermoplastic underlays were added at each intersection.
The BL widths, so now all the way from Rural to I-10, are quite comfortable, generally 5′ next to a 1.5′ gutter pan; so 6.5′ total width if measured from the curb
.
Pavement Quality Index
The email thread referred to above is pretty enlightening. The so-called Pavement Quality Index (sometimes PQI, or PQ Index) is as measured by instrumentation that is carried in a vehicle that drives the right-hand through lane. In the email, I think Mr. Chavira acknowledged the shortcoming of that data in that the PQ of the bike lane is irrelevant; I suggested some tweaking of the methodology is needed.
I also learned the PQI (Pavement Quality Index), as well as volume data is all freely available (nice job, City of Tempe!):