What is the MUTCD?
From wiki:
The Manual on Uniform Traffic Control Devices (MUTCD) is a document issued by the Federal Highway Administration (FHWA) of the United States Department of Transportation (USDOT) to specify the standards by which traffic signs, road surface markings, and signals are designed, installed, and used…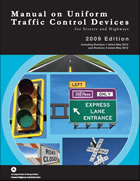 Here is the MUTCD home page, where full versions of the document are published.
Most of what is of particular interest to bicyclists is in Chapter 9. Walkinginfo.org has a webinar presentation that outlines the changes in the 2009 version of MUTCD.
H. Gene Hawkins, Jr., Ph.D., P.E. has an extensive history of the MUTCD.
The MUTCD in Other States
The FHWA maintains a handy page that has a link to every state's MUTCD. There are 3 categories
States that have adopted the federal MUTCD in its entirety
States that have adopted the MUTCD with additions/subtractions (Arizona falls into this category)
States that have their own
California in particular has very copious and detailed additions to the federal MUTCD. California also has a very detailed design manual, and Arizona does not have an equivalent document (i.e. individual jurisdictions have their own design policies), and e.g. Arizona has no binding design standards for BLs:
HDM Highway Design Manual; especially see Chapter 300, "301.2 Class II Bikeway (Bike Lane) Lane Width"), reproduced here (retrieved 11/2019):
The minimum Class II bike lane width shall be 4 feet, except where:
• Adjacent to on-street parking, the minimum bike lane should be 5 feet.
• Posted speeds are greater than 40 miles per hour, the minimum bike lane should be 6 feet, or
• On highways with concrete curb and gutter, a minimum width of 3 feet measured from the bike lane stripe to the joint between the shoulder pavement and the gutter shall be provided.
In short, CA allows for some pretty narrow bike lanes, in addition to door-zones.
With respect to CA law, this becomes legally-important because CA has a Mandatory Bike Lane (MBL) use law, whereas AZ does not, see CA VC 21208.
Applicability of the MUTCD in Arizona
ARS 28-641 establishes the MUTCD as the traffic control standard for all of Arizona and 28-643applies the MUTCD to all local jurisdictions; subject to adoption, and amendments which can be found on ADOT's traffic standards page, where the latest amendments as of this writing are to the 2003 MUTCD, and were last amended in 2007 — there are no amendments to section 9, Bicycles.
The 2009 MUTCD and the Arizona Supplement
Note that in AZ's supplement there is no chapter 9, in other words the federal Bicycling chapter is adopted as-is.
As of January 2012, Arizona has adopted the 2009 MUTCD, the Arizona supplement is linked at the ADOT Traffic Engineering References page, linked above. The official adoption memo is Departmental Directive No.12-01. As before, there are no amendments to section 9.
There are many interesting facts in a presentation by Richard Moeur  Implementing the 2009 MUTCD: State DOT perspective. In particular def'n of intersection:
UVC & many state laws: "intersection" only includes area within extension of curb lines… 2009 MUTCD: Where signalized, "intersection" also includes area enclosed by crosswalks & stop bars… This will create operational & legal problems
City of Phoenix Traffic Barricade Manual
Something that I learned from the wiki was that the City of Phoenix has this whole big thing they publish and maintain called the  City of Phoenix Traffic Barricade Manual, 9th Edition, 2017 d_039129.pdf  (uploaded for posterity to cazbike's google docs)
(older info: 2007 Traffic Barricade Manual link, of course, went dead. stupid CoP. Here is same document on City of Glendale site, or alternately it can be retrieved from archive.org here. )
The manual "was prepared to guide people working in and near streets or planning events" (i.e. usually street construction) and is said to be in full compliance with the MUTCD. Here's some info that bears directly on bicyclists:
Bicyclists may legally use both street and sidewalk and need to be considered under both conditions . . . Any bike lane that is effectively narrowed below 5 feet is considered a bike lane closure . . . Any time a bike lane us closed, proper signing shall indicate "BIKE LANE CLOSED AHEAD" and "BICYCLES MAY USE FULL LANE (R4-11) .

…Bicyclists have a legal right of access to most highway facilities and provisions for their safe conduct
through work zones are necessary.

— p. 30, 32 Phoenix Traffic Barricade Manual, 9th Edition 2017
Another interesting oddly specific oddity is this is enabled by city ordinance 31-200 "The City of Phoenix Traffic Barricade Manual, 2007 Edition, developed and published by the City Manager is hereby adopted". Other cities, e.g. Mesa, AZ refer to the CoP manual and have their own addendums.
MOAS

ADOT has a listing of all signs available to be used in Arizona — the Manual of Approved Signs MOAS, and is presumably consistent with the MUTCD. It's easy to find, for example, a regulature bike lane sign, R3-17.

It might even be handy to grab their thumbnails like so wwwa.azdot.gov/traffic/moas/thumbgif/r/r03-017.gif though they'll probably change that often whenever the website gets reorganized. Oddly I can't find, e.g. a bike route sign via those pages, they call that a Guide and Information Signs. It's a D11-1, i found it in a pdf.
 The MUTCD and the BTC of the NCUTCD
Here's some explanatory background on the relationship between NCUTCD's BTC (Bicycle Technical Committee) and the FHWA's MUTCD. so many acronyms. On the same blog, the reproduced a LAB proposal to update MUTCD procedures.
This handy link shows all the status of any recommendation (looks like anything back to 2010); e.g the sharrow has some pending proposals approved by NCUTCD… see more here.
Going forward? The FHWA is seeking input on how the MUTCD should be further developed going forward (i.e. after the 2009 edition), e.g. who is the target audience? Why do some states elect to develop their own versions? And here is an NCUTCD vision document.
MUTCD 2019?
Since there's no fixed timeframe for new editions, the next version of the MUTCD's appearance is anyone's guess. The NCUTCD continues to churn out recommendations. Here's a synopsis of what was is in the hopper from the June 2018 meeting of the NCUTCD.