Apparently I'm a little behind the times, a new version of the MUTCD was released in Dec 2009 and includes a couple of new items for cyclists:
Section 9B.06 Bicycles May Use Full Lane Sign (R4-11) , sometimes denoted as BMUFL  and
Section 9C.07 Shared Lane Marking. (known colloquially as a Sharrow)
The last time I wrote about Shared Lane Markings,  see Sharrow / Shared lane marking (SLM), they were "experimental".
The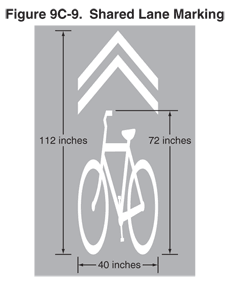 SLM seems like a really good idea that is practically useless in the vast majority of the hundreds of square miles of Phoenix because they are not allowed discouraged (the actual Guidance says "The Shared Lane Marking should not be placed…") on roadways that have a speed limit above 35 mph") — that's practically all of them where sharing is an issue in Phx metro area.
It's worth noting the 35mph recommendation applies only to SLMs (sharrows) and not to BMUFL signs. BMUFL can be used on roads with any speed limit; this apparently was still confusing so there is an official interpretation that says so: Interpretation Letter 9(09)-19 (I) – Use of R4-11 Sign on Roads with Speed Limits above 35 mph
Sign Size
Sign size minimums are given in Table 9B-1. Bicycle Facility Sign and Plaque Minimum Sizes of the MUTCD; the BMUFL sign minimum is 30×30 inches, there is no smaller variant. That's pretty big, by comparison, an R3-17 Bike Lane sign is only 24×18. I mention this only because somebody posted a picture of a too-small BMUFL sign; that would be non-compliant.
ITE Traffic Control Devices Handbook
Regarding the dreadfully poor minimum guidance on SLM positioning the ITE Traffic Control Devices Handbook gives much stronger and useful guidance as detailed in an article at bikewalknc.org where there are several tables from the handbook reporduced — it says, e.g. in a no-parking situation with a 12.0′ lane should have a sharrow positioned 6.0′ … in other words, centered in the lane. Simple. From the Handbook: "Another approach is to center the marking in a lane that is too narrow to share. This clearly indicates a bicyclist is allowed full use of a narrow lane, and is likely to produce more consistent overtaking behavior…".
Also,  Dan Gutierrez has an excellent set of pictures/diagrams (here's another set, Here's another much longer set; note that apparently now you need to log into facebook to see these) that illustrates that 11′ really isn't enough over parking considering the door zone. I wasn't completely clear from all those slides, but I think he's saying 13′ should be the minimum in order to stay out of the usual door zone; and that they were working on recommendation for streets without parking.
Around here, I rarely encounter on-street parking (on busy roads; virtually all of the arterials around suburban Phoenix in the newer areas are no parking)… so i hadn't given it much thought.
In the common arterial around here: no-parking, narrow-multi-laned arterials (usually 11′ lanes) — it seems to me that 6′ from the curbface to centerline of the marking is about right (has anyone done the math?) is appropriate. Narrow meaning not wide enough to safely share side-by-side with a vehicle — generally recognized as anything 14′ or below (see e.g. AASHTO).
Non-Standard SLMs?
For some reason some cities have sometimes been using non-standard markings; this seems baffling, and have no idea why they do this. The one correct marking spec'ed in Fig 9C-9 is depicted above. I've seen this both in Phoenix (though in some places the correct symbol is used); and Tempe. The use of the "helmeted rider" stencil is specifically mentioned in FHWA MUTCD Part 9 FAQ; the answer is quite clear an unequivocal: no you cannot substitute symbols:
Q: Can I use the Helmeted Bicyclist Symbol pavement marking in lieu of the conventional Bicycle Symbol pavement marking for incorporation into the Shared Lane Marking shown in Figure 9C-9?
A: The Helmeted Bicyclist Symbol pavement marking (see Drawing B in Figure 9C-3) may be used for the Bike Lane Marking. However, for uniformity the conventional Bike Symbol pavement marking (see Drawing A in Figure 9C-3) as shown in Figure 9C-9 should be used for all Shared Lane Markings because that was the symbol tested during the experimental stages that yielded the best result.
Research
Here's some recent (2015) published research from the journal PLOS/one:
"Bicycles May Use Full Lane" Signage Communicates U.S. Roadway Rules and Increases Perception of Safety George Hess , M. Nils Peterson
Although limited in scope, our survey results are indicative and suggest that Departments of Transportation consider replacing "Share the Road" with "Bicycles May Use Full Lane" signage, possibly combined with Shared Lane Markings, if the intent is to increase awareness of roadway rights and responsibilities.
Speed Reduction Markings
Here's an application of Speed Reduction Markings in combination with Shared lane markings. Escondido, CA. they are on an uphill approach.
Section 3B.22 Speed Reduction Markings
Support: Speed reduction markings (see Figure 3B-28) are transverse markings that are placed on the roadway within a lane (along both edges of the lane) in a pattern of progressively reduced spacing to give drivers the impression that their speed is increasing. These markings might be placed in advance of an unexpectedly severe horizontal or vertical curve or other roadway feature where drivers need to decelerate prior to reaching the feature and where the desired reduction in speeds has not been achieved by the installation of warning signs and/or other traffic control devices.
.
.