The AASHTO Guide for the Development of Bicycle Facilities, is a much-referenced work among bicycle planning and transportation professionals. The 2012 is the most recent final version; As of the time of this writing, the complete guide isn't freely available; there are fragments below from both the previous (1999) edition, as well as the current (2012) edition.  The guide is a largish (2.5MByte) .pdf available from the here, via azmag.gov (Maricopa Assoc of Governments). You can purchase the book directly from AASHTO
This book gives the accepted guidelines for dimensions and usage of various bicycle facilities, i.e. bike lanes, wide curb lanes.
There is also a DRAFT revision dated February 2010: DRAFT AASHTO Guide for the Planning, Design, and Operation of Bicycle Facilities which was superceded by the…
Just released this June, the 4th Edition, 2012; here's some carping on dc.streetsblog.org that the new guide doesn't address cycle tracks (bike lanes with physical barrier between the bike lane and adjacent travel lanes).
The AASHTO various guides, another more famous being the "Green Book" whose formal title is A Policy on Geometric Design of Highways and Streets, ARE NOT STANDARDS. See Kostelec's On the 6th Day of Safety Myths, my DOT gave to me…AASHTO Standards!
Bike Lane / Bicycle Lane Dimensions
I frequently have to look this up, so here are the design specification dimensions for bike lane per the 1999 Guide BE SURE TO SCROLL DOWN FOR NEW/UPDATED 2012 edition because some of this has changed (p.22, 23)
For roadways with no curb and gutter, the minimum width of a bike lane should be 1.2 m (4 feet). If parking is permitted, as in Figure 6(1), the bike lane should be placed between the parking area and the travel lane and have a minimum width of 1.5 m (5 feet). Where parking is permitted but a parking stripe or stalls are not utilized, the shared area should be a minimum of 3.3 m (11 feet) without a curb face and 3.6 m (12 feet) adjacent to a curb face as shown in Figure 6(2). If the parking volume is substantial or turnover is high, an additional 0.3 to 0.6 m (1 to 2 feet) of width is desirable.
The recommended width of a bike lane is 1.5m(5 feet) from the face of a curb or guardrail to the bike lane stripe. This 1.5-m (5-foot) width shouldbe sufficient in cases where a 0.3-0.6 m (1-2 foot) wide concrete gutterpan exists, given that a minimum of 0.9 m (3 feet) of ridable surface is provided, and the longitudinal joint between the gutter pan and pavement surface is smooth.
So in summary, recommended width:
If no curb and gutter / no parking : 4 feet
If curb and gutter / no parking: 5 feet from curbface, with a minimum of 3 feet of "ridable surface", i.e. up to two of the 5 can be gutter pan.
If parking: generally 5 feet, see document.
By the way, there is a handy extract of the Guide including cross sections diagrams within lesson #15 of  FHWA-HRT-05-133 Federal Highway Administration University Course on Bicycle and Pedestrian Transportation. The material is available in both pdf and ppt; and has a whole spectrum of information pertaining to planning bike and ped facilities.
the 2012 (4th) Edition
There are a couple of material changes in the 2012 guide compared to the 1999 regarding recommended bike lane widths. In particular, widths for bike lanes next to curbs with gutter pans were made more stringent:
"Along sections of roadway with curb and gutter, a usable width of 4 ft (1.2 m) measured from the longitudinal joint to the center of the bike lane line is recommended" (bottom page 4-15).
This means that for the common gutter pan width of 1.5′; the new minimum total width is 5.5′ (i.e. 4 + 1.5) whereas it would have been 5′ per the 1999 guide. A similar statement is made about drainage grates; that there must be 4′ beyond the grate.
For more about the 2012 Edition, there is a series of webinars/presentations at walkinginfo.org, e.g. the 9/4/2012 one covers bike lane minutia.
Another general change (that I'm not too happy with; but there you have it) is that now "Bike lanes are the appropriate and preferred bicycle facility for thoroughfares in both urban and suburban areas." (my emphasis)
Also see Wayne Pein's critique of 2012-aashto-bike-lane-widths.
See mcclintock-road-resurfacing-and-left-buffered-bike-lanes for a quotation on the advantages and disadvantages of buffered Bike Lanes.
Here's another wording of the same (5′ minimum total, 4′ minimum usable) widths for BLs next to curb & gutter, from the FHWA:
On streets where the bike lane is adjacent to the curb and the curb includes a 1-foot to 2-foot gutter pan, bike lanes should be a minimum of 4 feet wide (width does not include the gutter pan, since bicyclists are typically unable to use this space).
— FHWA University Course on Bicycle and Pedestrian Transportation; Lesson 19.2
Wide Curb Lane Dimensions
From page 17 of the 1999 Guide (emphasis added):
In general, 4.2 m (14 feet) of usable lane width is the recommended width for shared use in a wide curb lane. Usable width normally would be from edge stripe to lane stripe or from the longitudinal joint of the gutterpan to lane stripe (the gutter pan should not be included as usable width).
It then goes on to list several cases where 15′ is indicated, though it discourages wider than that on the theory that cars might then "double up" in the one lane.  14′ is definitely not enough width for general lane-sharing! There's a great line and illustration in Wayne Pein's critique of 2012 AASHTO guide,   showing that large vehicles cannot safely (or legally) pass a bicyclist side-by-side in a 14′ lane: "It's a zombie myth that 14 feet is adequate for side-by-side use" and in How Wide Should a Wide Lane Be? notes "The preponderance of research and empirical evidence indicates the width of WOLs (Wide Outside Lanes) should be 15 feet minimum. Where there is significant heavy truck traffic and higher speeds, 16 feet or more should be used".
The 2010 DRAFT Guide
The 2010 draft guide, link above, has a LOT of extra detail and generally stronger wording, e.g. the 1999 Guide refers to "the recommended width of a bike lane is 1.5m(5 feet)" whereas the 2010 Draft says "the minimum bike lane width is 5 feet…" (empahsis added).
The Draft Guide also, by the way, specifies that the measurement is made "to the center of the bike lane line". The 1999 Guide doesn't specify.
Other Guides… ITE, NACTO
Bike Lane Signs & Markings (MUTCD)
Note that, unlike any of the guides, the MUTCD is legally binding.
I lumped MUTCD references to bike lanes here in this article because I thought it was interesting: as of the current MUTCD (Dec 2009, as of this writing), the R3-17 signs are not mandatory, section 9B.04: "If used, Bike Lane signs and plaques should be used in advance of the upstream end of the bicycle lane…". It used to say "Bicycle Lane signs shall be used in advance…"
This is surprising to some, including me. The thinking is, apparently, that the ground markings are the important piece. Pedbikeinfo.org has a nice presentation-style document outlining all bike+ped oriented changes in the 2009 MUTCD, bikes are part 9.
For more explanation, see  bicycle (part 9) related FAQs.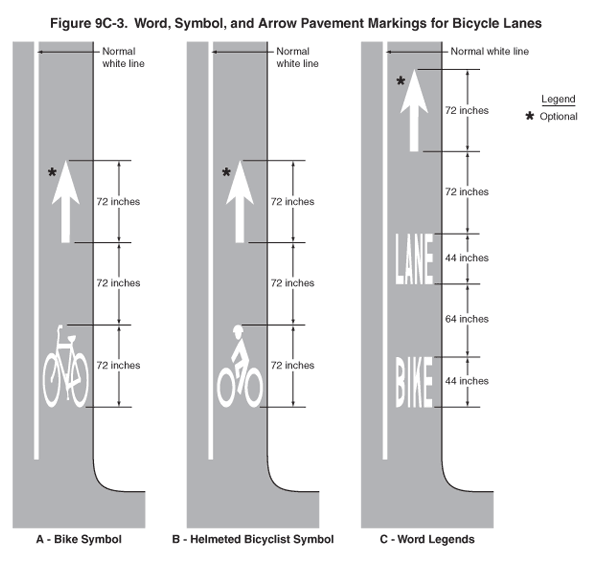 The term markings refers to the various paint on the ground that may or must be used to mark a bike lane. The stripe is unambiguously and absolutely required  — "Longitudinal pavement markings shall be used to define bicycle lanes" (my emphasis added) see 9C.o4 Markings for Bike Lanes, and note that no particular stripe width is specified. However, the painted words or symbols/logos, and arrows are "if used", which would suggest they are optional. Not so fast! According to the above-mentioned faq, due to Item C in Paragraph 6 of Section 3D.01 the word, symbol, and/or arrow pavement markings are required. Apparently this apparent confusion has already been recognized by the NCUTCD's BTC (that is, the National Committee on Uniform Traffic control Devices, Bicycle Technical Committee:  ncutcdbtc.org) and a fix is in the works. The proposed fix clarifies in 9C.04 that markings are required, by adding them to the standard (thanks to Richard Moeur for pointing this out). The official status of the request  9(9)-26 (and scroll down; the direct link seems to change) — one imagines this can take a long, long, long time if it is granted; and in the meantime it's not clear what the status of all this is?? [one wonders how long this can possibly take? I just checked in Jan 2015 and the request was received 3 and 1/2 years ago with no end in sight. I inquired 8/2015 and was told due to unfortunate delays, it's not likely to happen until the next edition of MUTCD, perhaps in 2017(!), and was in the meantime referred to the FAQ linked above for bicycle markings] Hopefully, it will one day show up as an 'interim approval'.
A "Longitudinal pavement marking" is defined in 3A.06 :  noting that width for "Normal line—4 to 6 inches wide"; I'm sure the color is specified as white somewhere else? There is no particular width specified for a BL stripe.
How wide is the bike symbol marking?   I just noticed that figure 9C-6 in the 2003 edition has the grid lines for the markings; the symbol is 40″ wide (the word markings are significantly narrower at 32″).  I've always wondered about that. See this comment below that explains the symbols must always be 40″x72″. These smaller symbols are wrong and are not supposed to be used (since at least 2003? In Tempe I often see a correctly sized symbol sort of superimposed over the vestiges of an older small symbol, so at least they made an effort), here's a too-small symbol in Apache Junction that was installed 2015.
Note that the MUTCD has in some sense the force of law in Arizona, see The MUTCD and A.R.S.
Liability Issues
There's a presentation at PBIC How to Create a Bicycle Safety Action Plan: Planning for Safety. It contains a graphic from the newer AASHTO bike guide as to bicyclist design width: 30″ / 48″ / 60″, which corresponds to a person's width / minimum operating width / preferred operating width (fig 3-1).
That has a link to FHWA University Course on Bicycle and
Pedestrian Transportation —  Lesson 22: Tort Liability
and Risk Management:  "When traffic control devices conflict with or are  not supported by existing standards, the liability is greater", like, for example, mis-use of urban edge lines; the most popular form of fake bike lanes.
The next revision?
In case you are wondering, NCHRP is the National Cooperative Highway Research Program.
The last guide skipped 13 years (1999 to 2012); when will the next one come out??