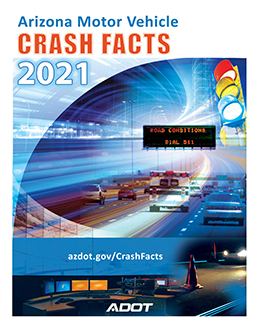 ADOT released Crash Facts 2022  July 24, 2023, which is back to the normal schedule (last year's was released in late Sept for unstated reasons).
2022 was, again, a very bloody year on Arizona's roads and highways. Overall deaths increased over the already bad 2020, and 2021 figures.
Just a reminder, there has been a sharp decrease in the total number of Bike-MV crashes beginning around 2015 [2]; The increase this  past year there was a significant year-over-year crashes 2022 over 2021 (1,159 vs. 1,025). I haven't tried to unpack number for this year. It still doesn't jive, e.g. in 2012 there were nearly twice as many reported crashes and at the same time there were less than half the number of cyclist fatalities (48 vs. 18). The reference at [2] has city-by-city breakdowns.
---
Here's a historical view of injuries and deaths for all person types:
Injuries by person type and severity, 2009 – 2022 [see 3]
Cyclist fatalities of 48 [note 3] in 2022 is a historical high  — the previous high before last year's blowout (45) for  was 35 way back in 2005; and was at the time an outlier as the 10-year average annual fatals were less than 24 at that time. The trailing 10-yr (2011 – 2020) average is 28/yr
The Arizona grand total of 1,294 traffic deaths for the year of all person types is horrendous, compare that to 2014 when 774 were killed. Arizona's population has grown a little since then but nothing like 67% !
The all time record is 2006, when 1,301 lost their lives.
The Bicyclist Fatality Grid for 2022 has not yet been reconciled; it's currently showing 43 of the 47 fatal crashes (According to Crash Facts one crash was a double fatal, so 48 total deaths); and, again, see [3] because there's a discrepancy between Crash Facts, and the database.
The grid contains some specifics on every bicyclist fatality in Arizona from 2009-2021, and ongoing as discovered.
Still wanting to look into "missing" hit and runs , there are az disturbing number of bicyclist fatals not reported as hit-run where the driver is marked as unknown age, gender, etc.
One stat of note is according to Crash Facts, motorcyclist fatalities, at 228, was a stunning 36% increase year-over-year.
There may be an inconsistency in motorized bicycle reporting; the fatality 10/19/2022 was reported to be a motorized bicycle, but the rider was categorized as a bicyclist; this would the the opposite of what was documented here a few years ago (did something change?)[4]
See also, these knuckleheads: "Arizona traffic fatalities are down in 2022, data shows" which said, at the time the article was published in July of 2022, that 2022 traffic fatals were down, oops. Of course they weren't down. duh.  There's a huge lag reporting fatalities into the database (ADOTReceivedDate)
---
Footnotes:
[1] more pandemic-year stats here: arizona-crash-facts-2020/
[2] For a long, excruciatingly boring details with city-by-city breakdowns showing the decline of reported Bike-MV crashes that began around 2015 see: number-and-severity-of-arizona-bike-mv-crashes/
[3] The spreadsheet linked reflects the data in the database, retrieved 8/14/2023. For reference, there's a column on the far right that shows for selected categories the published Crash Facts 2022, and show, e.g. 16 additional fatalities compared to what was published. These adjustments are apparently typical, when comparing the totals for 2021 published in CF 2022, compared to what was published in CF 2021.
[4] a list of all bike-MV fatalities since 2009 can be found in this google doc spreadsheet.